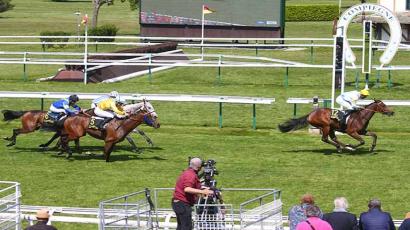 15h25
Prix de Crépy-en-Valois
Flat racing - 1800m - 27000 € - 11 Runners
Final result : 12 - 5 - 2 - 6 - 7 - 8 - 3
Scratched runner(s) : 10
Time : 01'49''87
Après avoir eu le bon parcours, Vaux le Vicomte (12) s'est rapprochée librement à l'entrée de la phase finale avant de faire facilement la différence pour finir, laissant une très belle impression pour ses débuts.
Ground : Soft - Grass | Pénétromètre : 3,5 (09h54)
Holding
5
CHILD OF THE MOON Lente au départ et toujours vue en queue de peloton, a tracé une excellente ligne droite en pleine piste pour s'emparer d'une très prometteuse deuxième place.

Thomas Arnaud
Paddock tips
7
TERTULIANE BLOOM Si elle effectue sa rentrée, cette pouliche a dévoilé de très jolis et sérieux moyens l'an passé. Ayant bien progressé physiquement durant sa trêve, elle peut s'imposer d'entrée de jeu.