4
PARIS-LONGCHAMP 08/06/2023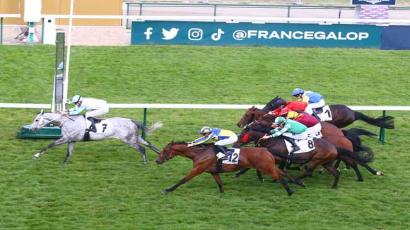 19h05
Prix des Mathurins
Flat racing - 2800m - 19000 € - 17 Runners
Final result : 7 - 12 - 8 - 5 - 6 - 15 - 1
Scratched runner(s) : 4
Time : 03'02''69
Grazano (7) a eu le bon parcours, profitant d'un rythme soutenu, puis a pris le large à la distance et n'a plus été inquiété.
Ground : Good to Soft - Grass | Penetrometer : 3,3 (14h00)
Annexes Moyenne Piste
Holding
5
ALABAA Le cheval de Laurent Viel a fait le forcing en début de course pour effacer son numéro, puis a eu un bon parcours mais il a mis beaucoup de temps avant de pouvoir s'exprimer pleinement dans la ligne droite, laissant beaucoup de regrets. 

Simon Madiot 
Paddock tips
12
SOTOUN Sur la montante, ce pensionnaire d'Andrew Hollinshead trouve désormais des conditions de poids favorables. A l'issue d'un parcours limpide, ce fils de Sea The Moon devrait, sans incident, prendre une part active à l'arrivée de ce handicap. Une base incontournable !